If you haven't read the last blog post about our first applicant, Stephanie and her family, please take a minute to do so. This post is a continuation of our journey with her.
The Friday before our launch party, I was working to get all of the last minute stuff done before the weekend. At 11am, the phone rang. It was a nurse from Northside Hospital letting me know Stephanie needed an emergency c-section immediately if they were going to meet Elannia alive. The doctor had been called and Stephanie was checked into a room already. I dropped everything, grabbed my gear, and headed to Northside Hospital in Forsyth as quickly as I could.
They were getting her prepped for surgery when I arrived, so they let her know I made it and I waited in the hallway with close family and friends. Even though there was a sense of excitement to meet Elannia, heaviness filled the halls as tremendous amounts of grief hung in the air knowing if she makes it out of the womb alive, she won't have long to be with us. We ended up in a waiting room together where we shared stories, the pastor prayed, tears were shed, and we waited.
The staff was wonderful and they kept us informed when Elannia was born.
Elannia was able to be with us for one hour and 23 minutes.
The short life of Elannia impacted everyone there in such a way that we will never be the same. We may not ever be able to understand why babies die and why bad things happen to good people, but we do know that every life has a heart beat; and every heart beat is full of love and purpose, even if we never fully comprehend it.
Because Elannia had Trisomy 13, she had a few extra fingers and toes, that were truly precious. On one of her feet, her extra pinky toe joined the other one in what appeared to be the shape of a heart. One of her ears also resembled a heart, and the more we looked, the more we saw hearts everywhere. She was truly full of love… a love that won't be lost or forgotten.
The nurse took measurements and bathed Elannia before wrapping her up to be swaddled and cuddled by her mom. We waited until Stephanie was ready for us to take pictures of Elannia by herself. During our session together, we laughed, we cried, and experienced all of the emotions you could possibly feel pouring out in the matter of a few hours. I had the honor of having another photographer, Brandy, join me for the shoot. Stephanie wanted a full newborn shoot, so she planned with Brandy ahead of time to pick out props and ideas for pictures that she really wanted us to capture. We were so happy to preserve these memories for her and her whole family.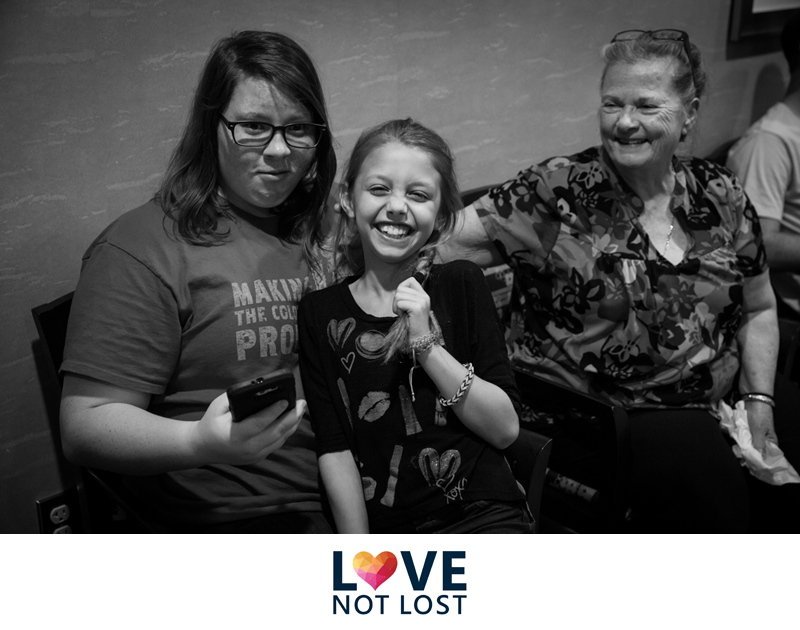 At the end of our session, Zaeden, who was giving Stephanie belly hugs during our maternity session and squealed with joy when he felt Elannia kick, started stealing kisses from his little sister. His face lit up with the same joy and delight from our maternity session and it was just the sweetest thing. As a mother, you could see Stephanie's heart overflowing in those moments. As a photographer, I was so grateful for the ability to freeze time for her.
At one point, Stephanie looked up at me from the bed and with sorrowful eyes said, "I am so sorry we won't be coming to the party tomorrow." I just laughed, "Girl, I think you have enough things going on! Don't you feel bad for a second about missing the party. We had a surprise for you, but we'll be sure to deliver it this week." If you read the last post, you already know that I delivered a canvas for their home to bring to the memorial if they wanted to share it with others. The smiles and joy that overflowed when they saw the canvas for the first time is exactly why we do what we do. We hope that the canvas, the photo book, and other art work they fill their home with from our sessions together continues to bring them joy and remind them of the amazing love they share.
The memorial was the following weekend, and although we couldn't get the book in time for the memorial, Stephanie did bring the canvas to showcase and we also sent our photographs to be added to the memorial slideshow Brandy put together. If you'd like to see the full video and learn more about Stephanie's journey with her family, you can visit their Facebook page.
We know the days ahead are going to be tough. Coming home without your child is one of the most painful transitions. Please keep this family in your thoughts in the days, weeks, and months ahead.