On January 19th, we received our first Love Not Lost applicant. That date is rather significant in our story because that is the day that Skylar turned two months old. That is also the day that we received the official diagnosis of SMA and our world came crashing down. On November 19th, 2016, I smiled. It seems that every day that used to hold negative feelings is being redeemed before my very eyes.
The applicant was Stephanie Rogers, and she wrote to us:
"I'm currently 20 weeks pregnant with a baby girl that has been diagnosed with full trisomy 13 (a rare, fatal chromosomal disorder). We're not sure we will be able to meet her alive, as most trisomy 13 babies pass away in utero. The few who survive labor and delivery rarely make it a week. Our daughter, Elannia, has several major heart defects and our perinatologist thinks once the cord is cut it won't be long. We were given the offer to terminate the pregnancy, and my husband and I refused. We have chosen to let God make the call when it's time for her to go home. This photo session would mean so much to us and help us remember the precious time we will get to share with her."
I called her the next day and we had a wonderful conversation. I was in awe of her faith, her bravery, and her strength. I let her know that we would be happy to photograph her with her husband and two other children whenever it was time to deliver. She agreed to keep me posted throughout the pregnancy and I went back to planning our official launch of Love Not Lost.
As we were developing the tagline that best represented our mission, "Celebrating life and love in the face of grief," I kept going back to the celebrating life part. Because we had time, I asked Stephanie how she would feel about a professional maternity session in addition to the photos we would take for her delivery. I wanted to be able to get to know them as we celebrate Elannia alive in her mother's womb and have some fun memories together since her life after delivery wasn't a guarantee. She was thrilled and we set up a session in April, knowing Stephanie would likely deliver her baby in May.
As with all of our portrait sessions, we like to find out what the family likes to do together so that we can best capture real personalities, get authentic lifestyle shots, and preserve some great memories. Stephanie shared that they love going to Lake Lanier, so we planned an evening session together at the lake. Although Brianna, the oldest daughter couldn't make it, we still captured some beautiful moments. You'll be able to see the moment that their son Zaeden felt Elannia kick with his hands on her belly, and the pure joy that followed.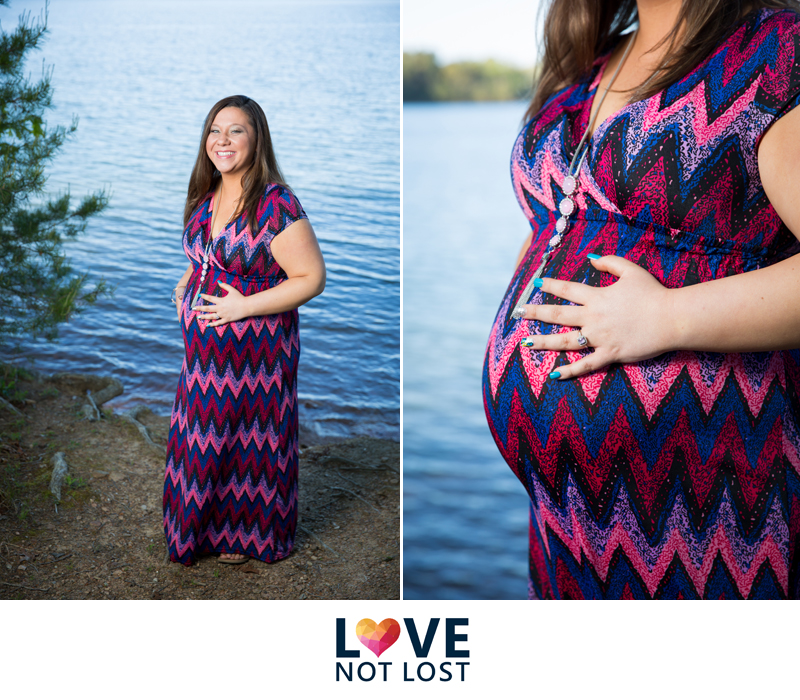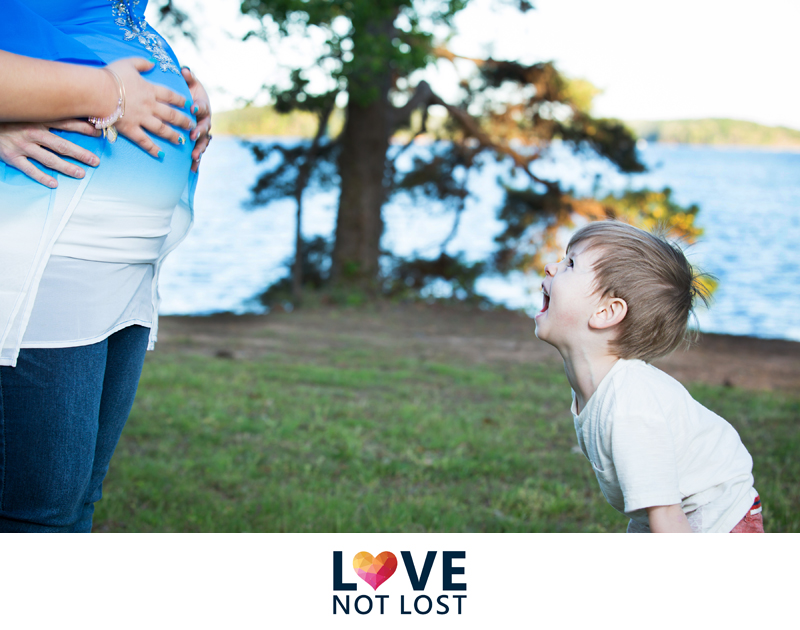 We were going to present a canvas from this session to Stephanie, and her husband Chris, at our launch party last Saturday... but the day before, we got a call that Stephanie needed an emergency c-section if she were going to meet their daughter alive.
I packed up and drove to the hospital last Friday to capture their sweet daughter, Elannia, after she was born. Since we couldn't give the canvas to them at the party, I drove to their house a few days ago and presented it to them at their home. We chose the last black and white image you see in the slideshow above because it captures so much joy, laughter, and love. Three things that are hard to come by in the days following the loss of a child.
Stephanie & Chris' faces lit up when they opened the canvas and shared their excitement that it's going to fit in perfectly above their bed. These smiles are exactly why we do what we do.
Even though the book won't be ready in time for the memorial service, we wanted them to have this canvas as an option to bring to their church to put on display. We also sent along the newborn images we took of Elannia to another photographer who is putting together a slideshow for the service and hope the images bring comfort and peace to all who are there.
We'll be sharing those photos soon as well as a party recap for those who are curious. Please keep this family in your thoughts. The days ahead are going to be so tough as they find their new normal through grief. Thank you.