As soon as we received Andrea's application, we knew we were going to New York.
Three years ago, she was diagnosed with metastatic breast cancer that had spread through her nodes into her bones in three places. Since then, she's been through four surgeries, nine biopsies, five core bone biopsies, radiation, and daily medication. Her application told us all of this, but then we got to this line,
I have 2 beautiful sons-- 16 & 13. We have never had a professional photo shoot. I would love to have our loving relationship memorialized.
I picked up the phone and gave Andrea a call. As I spoke with her, she shared that she grew up on Long Island, her treatment is in the city, and they are New Yorkers through and through. They love doing things outside so we decided that we could hang out in Central Park together and then head to Long Island to try to get some photos there as well.
Meeting in Central Park on a Friday afternoon proved to be quite challenging, but once we connected, I was able to meet Andrea, and her two sons, Liam and Ross. The day was hot, but luckily Central Park is full of big beautiful trees that provided shade as we walked around, climbed on rocks, and stopped for a treat at one of the ice cream stands that were scattered throughout the park.
As the sun started getting lower in the sky, we had the crazy idea to try to get to the beach on Long Island to catch the sunset. Had we known how bad traffic was going to be, we would've stayed put, but it was worth the try! We ended up missing the sunset, but stopped off at one of their hangout spots on Long Island in the dark to get some last memories captured.
Before I met Andrea in person, it was obvious through our conversation the love she has for her sons and the strength she has as a woman. Once we started our session, it was even sweeter to see that love come out during our photo shoot and shared with her sons. You'll see they are crazy about her too!
Andrea makes it a point to do something fun with her sons every month to make memories and remember that it's relationships and experiences that matter. Andrea lives by the philosophy that the purpose of life is to make a difference... to make your time on earth matter. She made it a point to remind her sons of this towards the end of our session and told me that living with cancer has made that philosophy even more purposeful. We hope you enjoy the highlights from our NY portrait session with Andrea, Liam, and Ross and use this as a reminder to make the most of your time while you have it.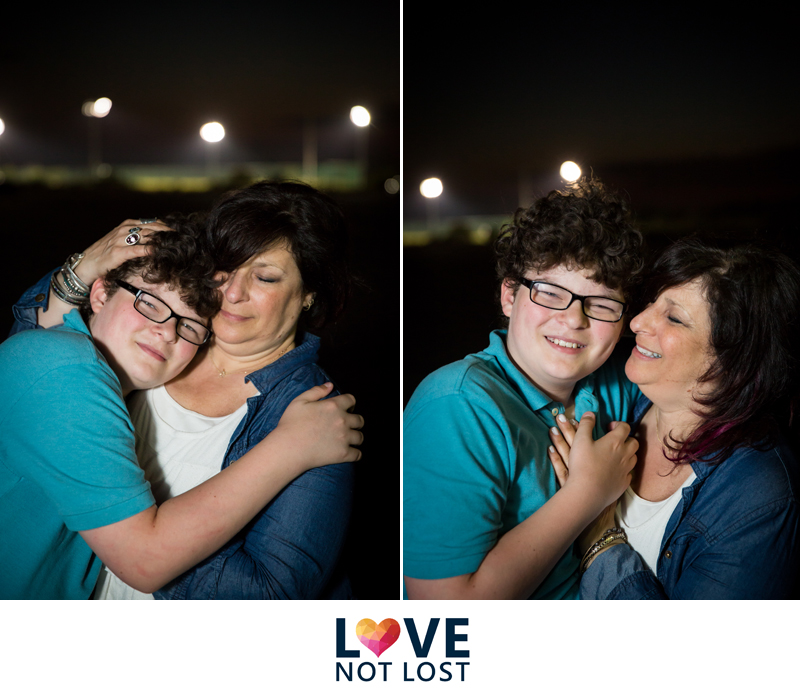 We are so excited to get their book into their hands. Thank you to all who have donated to Love Not Lost thus far. Your generosity has enabled us to fly to NY for this session to preserve memories for this incredible family. Thank you for celebrating life and love with us in the face of grief through Love Not Lost.
We have more families who are waiting for sessions and we will be traveling to Iowa and Wisconsin next month to capture two of our next applicants. We can't travel to these families and capture their memories without your generous support. If you haven't joined our crowdfunding campaign yet, there are a few days left - would you please consider giving to help us reach more people facing a terminal diagnosis? You can also become a monthly donor or give a one-time gift on our website. Please join our cause by donating money or sharing our story with those you know. Thank you!